Excellence has been our hallmark since 1983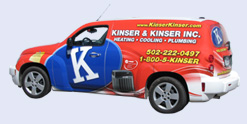 For decades Kinser & Kinser has provided the most efficient heating and cooling products available. In the early years the goal was to simply heat and cool a house with little regard to indoor air quality or energy efficiency.
Today, it is very important that your system is installed properly and is as energy efficient as possible. Over the years as new equipment and accessory products have been developed, Kinser & Kinser has always been on the cutting edge of technology in making any new and improved products and services available to our valued customers.
We take pride in our work and the fact that our customers are completely satisfied after we install or service their systems - in fact we provide a 100% Satisfaction Guarantee on every thing we do! From complete HVAC systems, to Water Furnace, and much more, Kinser & Kinser of LaGrange is your only choice for total home comfort.